To remain compliant with our e-mail provider, we must block invalid e-mail addresses, addresses that have bounced, etc. Every day, we get reports about such e-mail addresses and add them to our denylist. These e-mails cannot receive any notification from us, including information about a capture, a password reset, etc.
Now you will see a warning if your account e-mail address has been blocked and if any e-mail recipient of your capture is on our denylist. You can open a support ticket to solve the issue and get the e-mail allowed again.
If your account e-mail address is blocked, you will find this warning at the top of each page and under Account:

If a capture contains an e-mail address that is blocked, you will see a similar warning at the top and bottom of the capture page: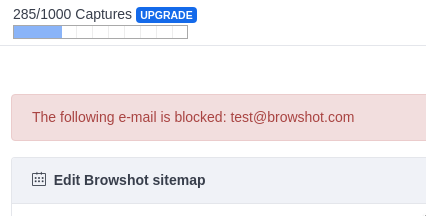 Check that the e-mail address is spelled correctly, and contact the owner to determine whether they recently had an issue (e.g., mailbox full, change of e-mail, etc.) or whether they have blocked messages from blitapp.com.